(和訳は下記にあります。)
As of today (January 22,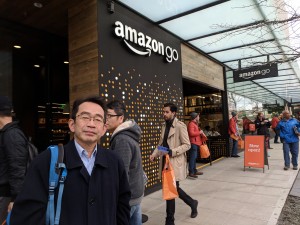 2018), Amazon Go is open to the public!
The store has been in a beta open since December 5, 2016 and available only to Amazon employees. The original public open date was set for Spring of 2017, however issues with sensors and tracking all of the customers had to be overcome first, pushing the open date back to today.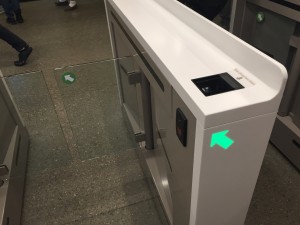 At first glance the entrance gates inside the store look like those you find at the train stations in Japan. Scanning an Amazon Go smartphone application as we pass through these gates allowed us to enter the approximately 1800 square foot store space, where around 30 people were already shopping.
Taking any of the products off the shelf adds it to our shopping cart. We try putting it in our bag, then returning it to the shelf. After a few more tests, we are satisfied.
To leave, we just pass through the gates again and our transaction is complete – no scanning this time.
When we checked the application a few minutes later, we found a receipt with exactly the items we left the store with.
It was my first time with the "no lines, no checkout" experience. If this technology becomes widespread and allows for unmanned stores, it could give a huge boost to convenience stores in Japan currently troubled by a lack of young workers.
It would also be possible to deliver targeted ads and prices directly to the shopper, allowing for more sales. I look forward to seeing the effect this has on the economy.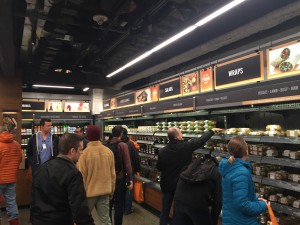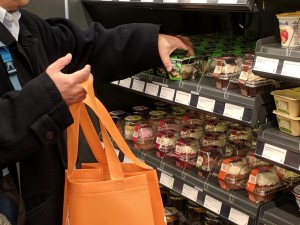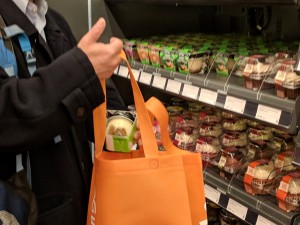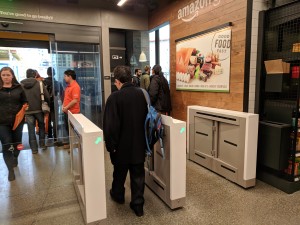 本日(1月22日)より、ついにAmazon Goが一般向けにオープン!
2016年12月5日からアマゾン社員向けにβプログラムでテストを重ねてきた。当初、17年春とされたオープンであったが、店内にお客がたくさん入り過ぎると、センサーがうまく機能しないなどの課題が発生したが、それらを解決して本日に至った。
日本の電車の改札口のような入り口で、予めダウンロードした専用携帯アプリをかざして入場。1800スクエアフィート(約170平米)の店舗には30人近い人が買い物をしていた。
商品を手にして、バッグに入れると購入となる。バッグを入れたり出したりして結局元に戻してみる。こうしたことを繰り返し試してみるそして、3点購入。
また、電車の改札みたいな出口を素通りするだけで、精算は完了されている。
携帯をチェックしたところ、当然ながら、購入したものだけが、チェックアウトされていた。
「No lines, No checkout」(行列なし、レジ精算不要)の初体験であったが、今後このテクノロジーが普及することで、無人店舗運営が可能となるため、日本のコンビニなどでの若手の働き手の不足に大きな突破口になりうる。
また、個人の購買履歴から、その人向けのお勧め商品情報の提供により、客単価も上がると考えられる。今後の、社会経済に与える影響を注視したい。
---