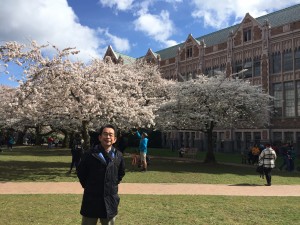 I am saddened to announce that I am being transferred back to Japan, and therefore my period as Director of Kobe Trade Information Office ended March 31st, 2018. I will be returning to Kobe.
Looking back, it seems like yesterday when I first arrived in Seattle in May of 2015. It had been the first time in 24 years that I had returned to Seattle and the city was much more vibrant, with new construction and busy traffic, than I had remembered. I was able to meet with many new people in these past 3 years, and I was able to learn so much from all of you. These new friends and learnings have made my time here very fruitful.
It was sad to say farewell to my old friends, teachers, and benefactors from university as well as all of the new friends and colleagues I met during my stay here. I also lost someone dear to me whom I had met in Seattle. I will carry these memories with me back to Japan and wherever I may go.
Last year was the 60th anniversary of the Seattle Kobe Sister City relationship, and I look forward to the continuation of the strong friendship between our two cities.
Friends of Seattle, I thank you from the bottom of my heart for your warm welcome and continuing friendship. I hope to see you next time in Kobe!
My successor, Masanori Nagamine, will be arriving in Seattle soon. Please treat him well.
Thank you,
Tetsuya Sometani
神戸シアトルビジネスオフィスの染谷哲也です。
このたびの人事異動で、神戸に帰ることになりました。
振り返りますと、2015年5月、24年ぶりにシアトルに戻って来て、その交通量の多さ、建築工事ラッシュなど、活気に満ちた街に変わっており、とても驚いたことが、つい昨日のことのように思えます。この3年間で多くのひとと出会うことができ、たくさんの学びがありました。おかげさまで、人生でもっとも充実した時を過ごすことができました。
久しぶりに再会できた大学の同窓生や恩師、また、長らくお世話になったひととの悲しい別れもありました。これらのことは、私にとって一生涯の思い出となるでしょう。
昨年、神戸シアトル姉妹都市提携60周年を迎えましたが、これからも両市は、固い絆で結ばれ友好を深めていくことと思います。
シアトルの皆さん、私たちを快く受け入れてくださり、昔からの友人のようにお付き合いいただきましたこと、心から御礼申し上げます。次は、是非、神戸でお会いしましょう!
私の後任は、永峰正規(ながみねまさのり)が参る予定です。どうぞよろしくお願いいたします。
---