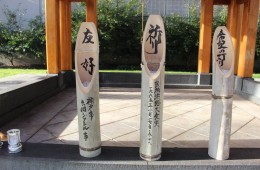 On Friday, January 16, 2015, "The 20th Anniversary Ceremony of the Hanshin-Awaji Great Earthquake" was held in the front of "Kobe Bell" at the Seattle Center and the ceremony was sponsored by Seattle Kobe Sister City Association, Hyogo Prefecture Washington Office, Cherry blossom Festival executive committees, and Kobe Trade Information Office.
Continuous rain through the morning completely stopped and under a beautiful blue sky which was unusual Seattle weather, we, more than 60 people attended the ceremony. We prayed and gave a condolence of 6, 434 victims.
Followed by the greetings of the special guests and the reading aloud of the prayer sentences of the Seattle Buddhism Society Priest, at 12:46 p.m. (Japan time January 17, 5:46 a.m.,) candles were lit to honor the dead and a one-minute prayer was offered with all participants. Then, each attendee moved hitting the Kobe Bell with memorial thought.
Japanese Consul General Masahiro Omura, Mr. Harper, a representative of the City of Seattle, and Mr. Uy, a representative of the State of Washington, three of them told the ceremony that "the sister city relations of Seattle and Kobe are very import. There strong relations want you to follow continuously."
After the ceremony, there were some receptions and exhibitions in the building of Armory and Seattle-Kobe Sister City Association, City of Seattle, Hyogo Business & Cultural Center, and City of Kobe have booths to show about current Earthquake Disaster Preparedness project and ongoing risk management activities since the disaster.
---