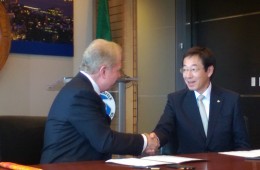 On June 11th, a delegation from Kobe joined KTIO's Director Tetsuya Sometani in assisting Mayor Kizō Hisamoto with a visit to San Francisco, Silicon Valley, and Seattle. Mayor Hisamoto has come to the West Coast with a deep interest in collaboration between aerospace, biomedical, IT, and community programs in both Washington state and California. Since arriving on the 11th, Mayor Hisamoto has met with numerous organizations and progressive thinkers–including Apple,  startup investment organization "500 Startups," and Seattle's own Mayor Ed Murray. Mayors Hisamoto and Murray met for the signing of an agreement that will foster partnership and exchange between Seattle and Kobe's aerospace and IT industries.
Mayor Hisamoto, the Kobe delegation, and KTIO Director Tetsuya Sometani have returned to San Francisco to meet with the San Francisco Japanese consulate; exchange with San Francisco's Mayor Ed Lee; participate in San Francisco's City Innovation Summit; and much more.
Check back periodically for updates, photos, and videos from Mayor Hisamoto's visit to San Francisco and Seattle. Read on for a photo stream of Mayor Hisamoto's activities from the 11th through the 15th.
---