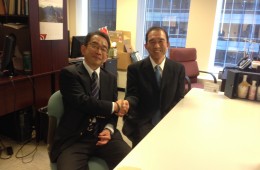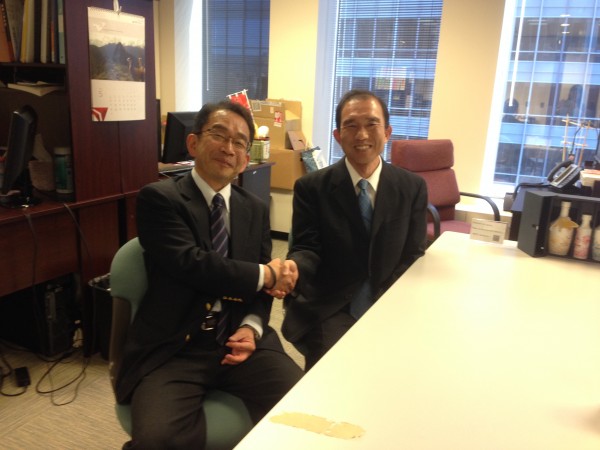 みなさん、こんにちは。
この度、神戸シアトルビジネスオフィスの所長に就任しました、染谷哲也です。どうぞよろしくお願いします。2015年4月1日、神戸市シアトル事務所は隣の部屋に移転し、兵庫県ワシントン州事務所と手を携えていくことになりました。写真の右は、河知所長です。
私にとって、シアトルは2度目になりますが、その間、20年以上の月日が流れ、シアトルの発展に驚いています。日本の経済がバブルといわれたころ、私はUnivertisy of Washington で経営学修士を取りました。そうです、私もHuskyなのです。
(UWのマスコットがハスキー犬であることから、UWの卒業生をHuskyと呼びます。)
20数年ぶりの米国生活に戸惑う事もありますが、力一杯がんばってまいりますので、皆さんよろしくお願いします。
染谷哲也
Dear All,
Welcome to our homepage. I am Tetsuya Sometani, the newly assigned Director for Kobe Trade Information Office (KTIO).
Seattle has been a very special place for me. More than 20 years ago, when Japan was in the midst of a bubble economy, I was a graduate student studying at the University of Washington, where I obtained an MBA. Yes, I am a husky! Time goes by quickly. I am amazed by so many changes and development since then.
On April 1st, KTIO moved and merged into the office of Hyogo Business & Cultural Center (HBCC).  I am looking forward to collaborating with HBCC to remain close and to grow our business together. (in the photo, shown right, HBCC's new Director, Mr. Kawachi)
This year, the focus of KTIO will take a different direction to more business side rather than cultural exchange side.  It will be quite a challenge; however, I am thrilled for this opportunity and ready to start my new journey.
Being back here after 20 years of absence, I get bewildered in a long-forgotten environment.  Yet, I am so excited to be here to bring something valuable and meaningful for both city of Kobe and Seattle.  I will do my best and I appreciate all of your support.
Best regards,
Tetsuya Sometani
---