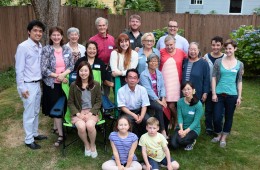 The last weekend of July has proven to be an eventful one for KTIO. On Friday, July 24th, our office gathered for a barbecue with the Seattle-Kobe Sister City Association to celebrate the Kobe Seafair Ambassador, Ms. Akane Kotani.
Earlier in the afternoon on Friday, July 24th, both KTIO and the Hyogo Business & Cultural Center attended a special Sendoff Reception for new members of the JET Program leaving to teach English and support local government throughout Japan. The reception was held at the residence of Seattle's Consulate General of Japan, Mr. Masahiro Omura. A total of 64 new JET hirees will be leaving for Japan; five of the 64 will travel to Hyogo Prefecture, and two of those five will travel to Kobe. Of the JET hirees traveling to Kobe, they plan to work with both Hazetani Junior High School and Sakuranomiya Junior High School.
Ms. Akane Kotani arrived in Seattle on Thursday, July 23rd to participate as a representative of Kobe in Seattle's annual Seafair Torchlight Parade. The Seafair Torchlight Parade heralds the beginning of Seattle's Seafair festival, and is a renowned event where Seattle citizens, organizations, and businesses may celebrate both Seafair and the spirit of Seattle.
Below are photos of the Seafair Torchlight Parade on Saturday, July 25th:
Seattle's Seafair weekend begins on Friday, July 31st, and continues until Sunday, August 2nd.
---