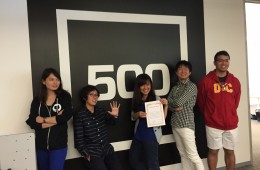 In late August, KTIO and a delegation of 16 participants from Japan traveled to Silicon Valley in California. Among these 16 participants were entrepreneurs and students, who arrived in Silicon Valley with the goal of expanding their knowledge and expertise on business development, entrepreneurial growth, and successful methods for pitching ideas. From 8/22 through 8/27, KTIO and the team at San Francisco's 500 Startups worked with these participants to develop entrepreneurial tools for success in business and technological fields.
Participants from Japan traveled throughout Silicon Valley, visiting numerous organizations and startups such as Google, ChatWork, Pinterest, Yahoo!, Apple, Treasure Data and Twitter. After exploring Silicon Valley's unique characteristics and entrepreneurial history, these participants were given the opportunity to present a pitch to Zafer Younis and Diana Moldavsky, Venture Partners at 500 Startups. Five participants were chosen to proceed into a "championship round" of pitch presentations.
By the end of the week presenter Mami Takesada was chosen as the winner. All participants who presented were counseled and given advice by Zafer Younis and Diana Moldavsky, who regularly support international entrepreneurs through 500 Startups.
KTIO would like to give Ms. Takesada our warm congratulations, and extend thanks to 500 Startups for its continued support of entrepreneurial exchange between Kobe, the United States, and Japan.
---