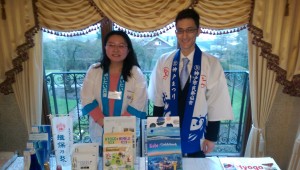 The Consulate General's Official Residence in Seattle hosted a reception on December 10th in honor of the Japanese Emperor's birthday. Many local officials and those with ties to Japan were in attendance. Kobe Trade Information Office was honored to attend alongside Hyogo Business & Culture Center. From our booth in the residence, we were able to hand out guides to the city of Kobe and introduce some local products to the attendees.
In particular we were asked about the Fukuju sake served for the toast, which is brewed by the Kobe Shu-Shin-Kan breweries in the Nada region of Kobe city. The sake had also been served during the dinner and reception for the Japanese scientist who won the Nobel Prize in 2012.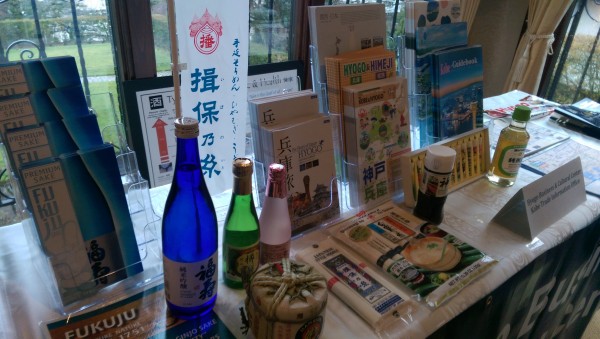 During the ceremony, Consul General Masahiro Omura presented KING 5 news anchor Ms. Lori Matsukawa with the Foreign Minister's Commendation and former Washington Secretary of State Mr. Ralph Munro with the Foreign Minister's Certificate of Gratitude.
Along with being a news anchor for King 5 TV, Ms. Lori Matsukawa is a co-founder and leader of the Japanese Cultural & Community Center of Washington, and works to promote Japanese language education and the preservation of Nikkei history.
The former Washington Secretary of State Ralph Munro has contributed greatly to Japan-U.S. relations, including the establishment of the Hyogo Business and Culture Center. His promotion of the sister relationship between Washington State and Hyogo Prefecture, alongside the development of many connections between Japanese officials and leaders, serves to bring Japan and the U.S. closer to this day.
12月10日、日本総領事館公邸にて天皇誕生日祝賀レセプションが行われました。神戸シアトルビジネスオフィスは兵庫県事務所と共に参加し、公邸内に設置したブースから、シアトルの日系企業のみなさんや日本とゆかりのある方々に、神戸市の観光や特産物を紹介しました。
特に参加者が興味を持たれたのが神戸酒心館で作られる福寿。これは、2012年山中伸弥教授が、ノーベル賞を受賞した時、晩餐会で出されたものです。当日も、乾杯をはじめ、参加者の皆さんに楽しんでいただけました。
レセプションでは大村昌弘総領事よりローリー・マツカワ氏に外務大臣表彰、ラルフ・マンロー氏に外務大臣感謝状が授与されました。お二人は、ワシントン州での日米関係の発展に大きな貢献をしてきたことでの受賞です。
ローリー・マツカワ氏はキングテレビのニュースキャスターであり、パシフィック・ノースウェストでの日系コミュニティの主要メンバーとしても活躍されてきました。マツカワ氏はワシントン州の日本文化コミュニティセンターの設立者の一人であり、今でもワシントンでの日本語教育、日系人の歴史の記録に貢献されています。
ラルフ・マンロー氏は元ワシントン州務長官であり、長年にわたり、日米の友好関係を発展させてこられました。兵庫県ワシントン事務所の創立にもかかわり、兵庫県とワシントン州の姉妹都市関係を深めつつ、日本政府とワシントン州の人的なつながりを支援されてこられました。
---